---
IPCS Home Page | IPCS Publications Page | Index of Pattern Sheets on the web
---
PATTERN SHEET 7
| | |
| --- | --- |
| Suit System: | IT |
| Recommended Name:   | the Swiss Tarot. |
This pattern was originally classified as IT-1.41.
Although several different types of Tarot have been made and used in Switzerland (Tarot de Marseille, IT-1; Tarot de Besançon, IT-1.4; Animal Tarot, FT-1; Bourgeois, FT-3) this is the only exclusively Swiss pattern and it is recommended that it should be known as the Swiss Tarot. Sometimes it has been known as the "JJ" Tarot, referring to the presence of Juno and Jupiter among the trump cards.
History
The Tarot de Besançon (IT-1.4) was widely copied in Switzerland during the 18th and early 19th centuries, the composition and subjects of the present pattern being identical but all designs are completely redrawn and presented differently.
The earliest known version was made by Johannes Müller in Diessenhofen in c.1860. It was copied by Mühlemann & Walther in Hasle bei Burgdorf in the 1880s and since that time has been made by A.G. Müller of Schaffhausen. It has French inscriptions which have remained constant except for the Fool who began life as Le Fou but soon became Le Mat.
Composition
As for a usual 78-card pack. 4 suits of 14 cards (1-10, Jack, Cavalier, Queen, King) plus 21 trump cards and Fool. All trumps and court cards are single-figure.
Some Makers
Johannes Müller, Diessenhofen (c.1860);
Mühlemann & Walther, Hasle bei Burgdorf (c.1885);
A.G. Müller, Schaffhausen (20th century).
References
SCHWEIZER SPIELKARTEN, Kunstgewerbemuseum der Stadt Zürich. 1978
PLAYING CARDS AND THEIR STORY by George Beal, David and Charles, Newton Abbot
COLLECTING PLAYING CARDS by Sylvia Mann, Howard Baker, London
SPEELKAARTEN by Han Janssen, C.A.J. van Dishoeck, Bussum
Swiss Tarot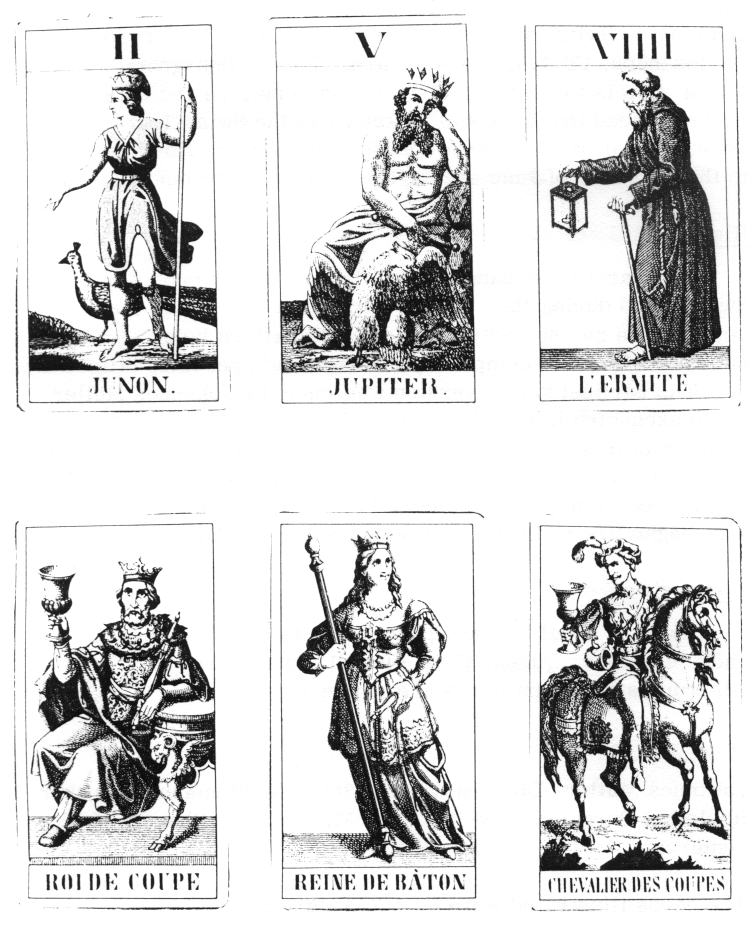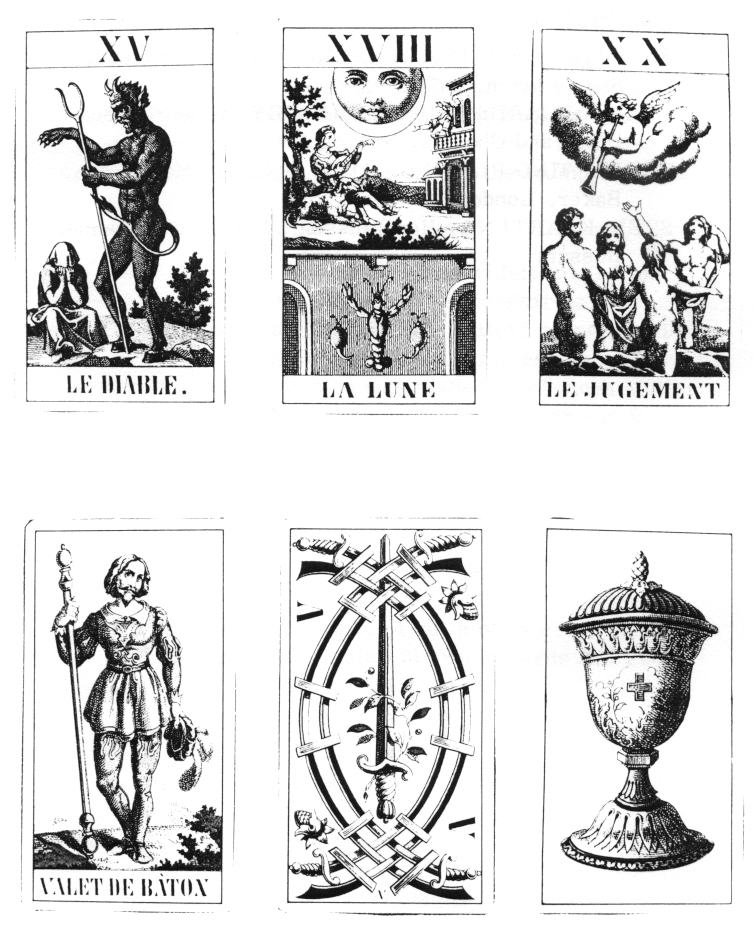 Cards from a pack by A.G. Müller.
| | |
| --- | --- |
| The International Playing-Card Society | Undated |
---
For comments please contact the Pattern Sheet Editor: Kay Stolzenburg (pattern-sheets@i-p-c-s.org)
---
IPCS Home Page | IPCS Publications Page | Index of Pattern Sheets on the web
---
This page is maintained by John McLeod (webmaster@i-p-c-s.org) and Kay Stolzenburg (pattern-sheets@i-p-c-s.org).
Last updated 9th September 2010