---
IPCS Home Page | IPCS Publications Page | Index of Pattern Sheets on the web
---
PATTERN SHEET 61
| | |
| --- | --- |
| Suit System: | G |
| Recommended Name:   | the Lower Saxon pattern, reflecting its main area of use. |
In All Cards on the Table (1990) Sylvia Mann proposed the name Hannover pattern. Earlier authors wrote of 'cavalier cards', referring to the appearance of the Obers and Unters.
History
The designs may have originated by a desire to do away with Italian-suited cards and use the more familiar German-suited cards instead. Export efforts by Saxon cardmakers presumably found an open market for cards displaying cavaliers in Lower Saxony. There Braunschweig (Knust, Vieweg, Grassau) Lüneburg (Crato) and Hannover (Goertz) makers produced the pattern at least from c.1780 until the end of the 19th Century.
Description
Characteristic features include Obers and Unters with three-cornered hats, frock coats, breeches, swords of honour and fancy sticks. Pip card illustrations follow two lines: one displays little naked boys in unlikely positions and occupations, the other shows rhymed aphorisms for players and diverse scenes which reappear on Bohemian jednohlave cards until today.
Composition
Daus, König, Ober, Unter, numerals 10 to 6 or, after 1820,10 to 7.
Makers
Apart from the ones mentioned above: Perrin, Berlin; Maedler, Rochlitz; Jassoy, Hanau; Ludwig & Schmidt, Halle; Lattmann, Goslar. Göbl of Munich was much copied for the pip card illustrations of one of his packs. A nine-card torso connected with Schmidt (Buchholz) may have been the ancestor of the pattern. There are at least four anonymous torsi in the Leinfelden Museum.
Literature
SUMA, W.: Sachsenkarte - Schwerterkarte, (IN) The Journal of the Playing-Card Society, p.6.
KONRAD, W.: Hildesheimer Spielkarten aus dem 18.Jahrhundert, (IN) Alt-Hildesheimer, Heft 27 (1956), pp. 23-27.
v. HASE, M.: Spielkarten aus alle Welt, Stuttgart, 1968, Nr.44.
KOHLMANN, Th.: Spiele mit deutschen Farben, (IN) Bube Dame König, Berlin, 1982.
KOHLMANN, Th.: Berliner Spielkarten, Berlin, 1984, pp.16,17, 39.
MANN, S.: All Cards on the Table / Alle Karten auf den Tisch, Leinfelden-Echterdingen & Marburg, 1990, Bd.l, p.62.
ALBERTINA: Spielkarten, 1974, Katalog-Nrn. 29, 30.
BALAN, E.-H.: Alles is möglich!? (IN) Das Blatt Nr.12, Berlin, 1995, p.73ff.
RADAU, S.: Ein Goslarer Kartenspiel von 1691, (IN) Joker Journal (im Spielkartenangebot xxii) der MGM Joker KG. pp.10,11.
HOFFMANN, D.: Die Welt der Spielkarte, Leipzig, 1972, p.14.
RUMPF, M.: The Role of the Oberrhein and Switzerland in the Development of the Playing-Card, (IN) The Journal of the Playing-Card Society, Vol. VIII No.4, May 1980, p.116.
SUMA, W.: 500 Jahre Leipziger Spielkarten, I.P.C.S. Papers No.2, May 1994, pp.16, 21, 34.
RADAU, S.: Tiertarock, München, 1989, pp. 28, 29.
BEAL, G.: Playing-Cards and Their Story, London, 1975, p.40.
ALTENBURGER SKATKALENDER 1926, 27 Jahrgang, p.70.
The Lower Saxon Pattern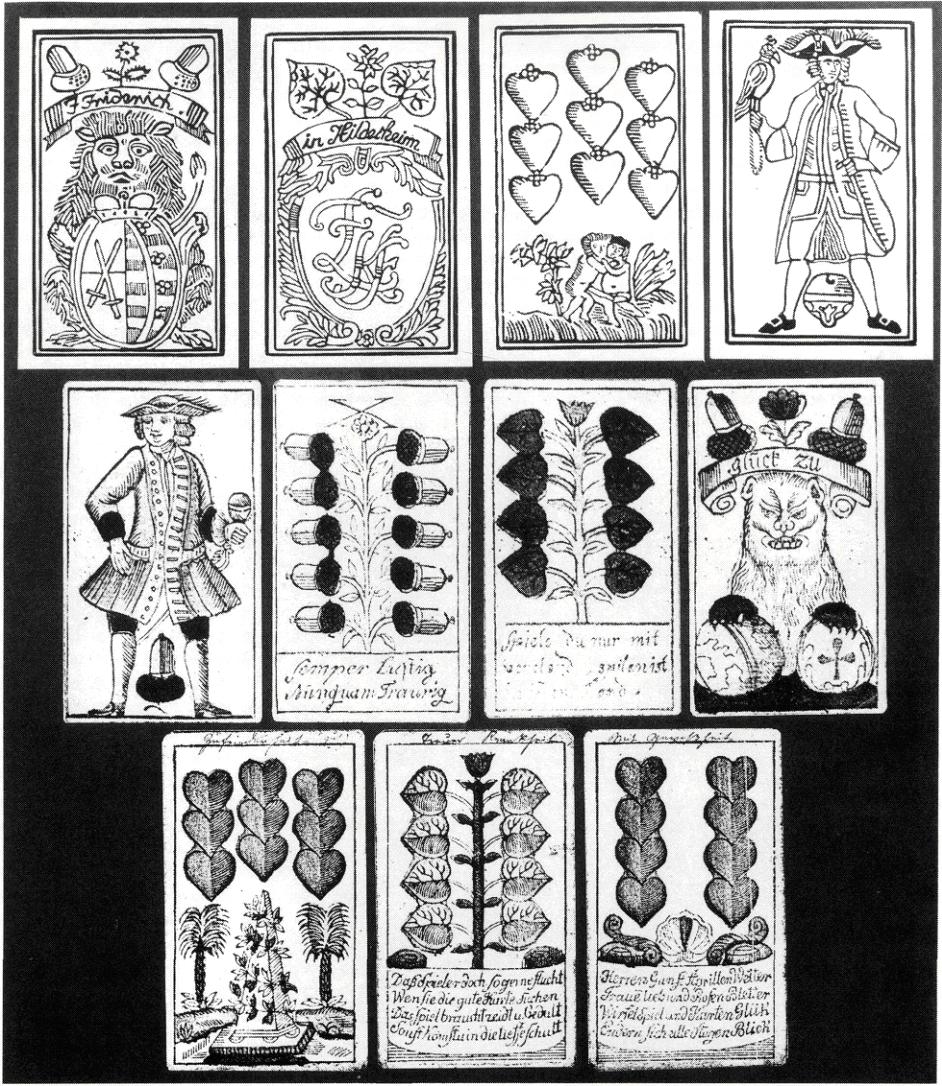 Top row: Friderich, Hildesheim
Middle: Jassoy, Hanau
Bottom: Vieweg, Braunschweig
| | |
| --- | --- |
| The International Playing-Card Society | 6/1997 WS |
---
For comments please contact the Pattern Sheet Editor: Kay Stolzenburg (pattern-sheets@i-p-c-s.org)
---
IPCS Home Page | IPCS Publications Page | Index of Pattern Sheets on the web
---
This page is maintained by John McLeod (webmaster@i-p-c-s.org) and Kay Stolzenburg (pattern-sheets@i-p-c-s.org).
Last updated 13th September 2010