---
IPCS Home Page | IPCS Publications Page | Index of Pattern Sheets on the web
---
PATTERN SHEET 54
| | |
| --- | --- |
| Suit System: | G |
| Recommended Name:   | the Bavarian pattern Type M (Munich variant). |
History
It is almost 200 years old and still in use, although hard pressed by a younger variant. It developed from the Old Bavarian Pattern, thereby taking on a different look, esp. by the large flower pot on Daus of Leaves, the Ober of Hearts leaning on a sword, the Ober and Unter of Acorns sporting just one weapon, the Ober of Acorns holding an oval shield.
The oldest pack known so far is by Joseph Fetscher (I) from Munich, dated to c.1810 (Deutsches Spielkarten-Museum, Inv. No. B 240). The pattern may have gained broad recognition after the establishment of Bavaria as an independent kingdom in 1806. Its spread was limited to the old Bavarian districts of Upper and Lower Bavaria, Upper Palatinate, and parts of Swabia and Salzburg. In Bavarian Franconia the Old Bavarian Pattern was used until 1830, when a regional variant was born. A broad spectrum of designs being in use until 1870, the pattern then settled down and was produced until 1950 almost unaltered. Around 1900 the first double-figured packs appeared. Only F.X.Schmid of Munich and the Altenburger Spielkartenfabrik still produce the traditional Munich variant.
Composition
36 cards: Daus, King, Ober, Unter, 10 to 6 in the usual German suits (i.e.Bavarian Tarock; Bav.Schafkopf omits the 6s).
Sources of Information
DAS BAYERISCHE BILD, Studien zur Spielkarte Nr.4, Manfred Hausler, Berlin 1993
SPIELKARTEN, Katalog des Bayerischen Nationalmuseums München, Sigmar Radau und Georg Himmelheber, München 1991
ALLE KARTEN AUF DEN TISCH, Ausstellungskatalog des Deutschen Spielkarten Museums Leinfelden, Sylvia Mann, Leinfelden-Echterdingen and Marburg 1990
The Bavarian Pattern Type M (Munich)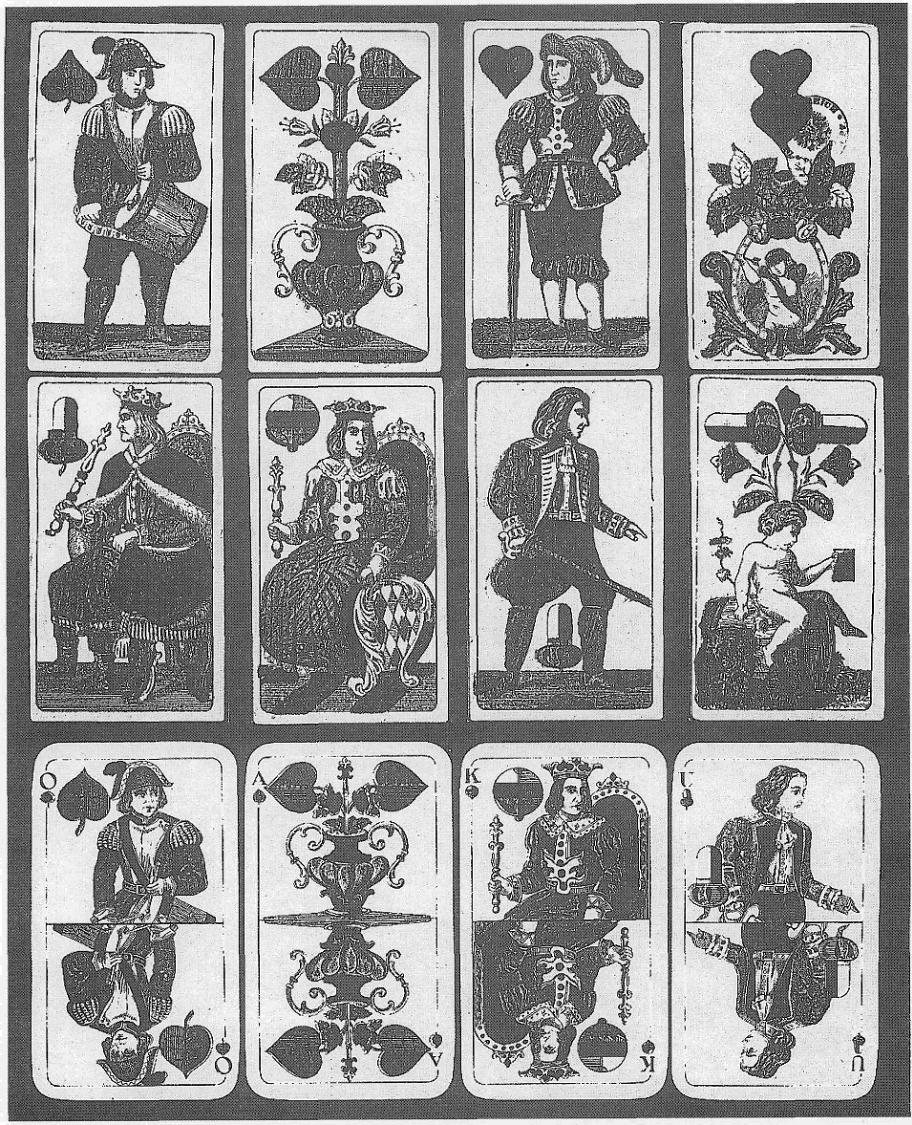 Upper two rows: single-headed pack by F.X.Schmid, c.1890.
Below: unknown maker, c.1940. (both from the collection of Manfred Hausler).
| | |
| --- | --- |
| The International Playing-Card Society | 7/1995 MH |
---
For comments please contact the Pattern Sheet Editor: Kay Stolzenburg (pattern-sheets@i-p-c-s.org)
---
IPCS Home Page | IPCS Publications Page | Index of Pattern Sheets on the web
---
This page is maintained by John McLeod (webmaster@i-p-c-s.org) and Kay Stolzenburg (pattern-sheets@i-p-c-s.org).
Last updated 13th September 2010