---
IPCS Home Page | IPCS Publications Page | Index of Pattern Sheets on the web
---
PATTERN SHEET 27
| | |
| --- | --- |
| Suit System: | S |
| Recommended Name:   | the Castilian pattern. |
This pattern was originally classified as S-6.
History
This design was launched under the direction of Heraclio Fournier in 1889 and has featured predominantly in the Fournier family's output ever since. It is the firm's own choice to describe it and similar designs as "Castilian", although its actual place of production has always been Vitoria in the Basque province of Alava.
This positive attempt to revise the design of the Spanish pack was combined with an early enthusiasm for the use of lithography, which further contributed to its characteristic appearance. A double-headed (reversible) version has recently been tried.
During the first half of the 20th century the firm of Fournier eclipsed virtually all competition within Spain, so the design remained their exclusive property there with the exception of packs of arguably similar flavour by Comas and Roura. The identical design has, however, been copied by several foreign firms. Other designs, while not exact copies, were undoubtedly influenced by this pattern.
Composition
40 or 48 cards of usual Spanish composition (see S-1.1)
Distinctive features
All the kings are heavily bearded and all wear or carry swords; there is an emphasis on heavily decorated robes. No horses are rearing; all are elaborately caparisoned. No kings have sceptres; the king of batons is in profile, the cavalier of the same suit has no stirrups. The clubs of the batons suit are uniform in shape throughout. Ace of coins: coin has profile portrait, the surround is packed with symbolic flags, palms, etc.
Some known makers
Heraclio Fournier, Vitoria, 1889 to present day.
Miguel Galas S.A., Mexico;
Comercial y Manufacturera S.A. ("Anahuac" and "Pegaso"), Mexico;
Anonymous ("El Halcon" and "El Venado"), Mexico;
Altenburger Spielkartenfabrik, East Germany;
Anonymous ("Espanolitas"), probably Hong Kong; all 20th Century.
Castilian Pattern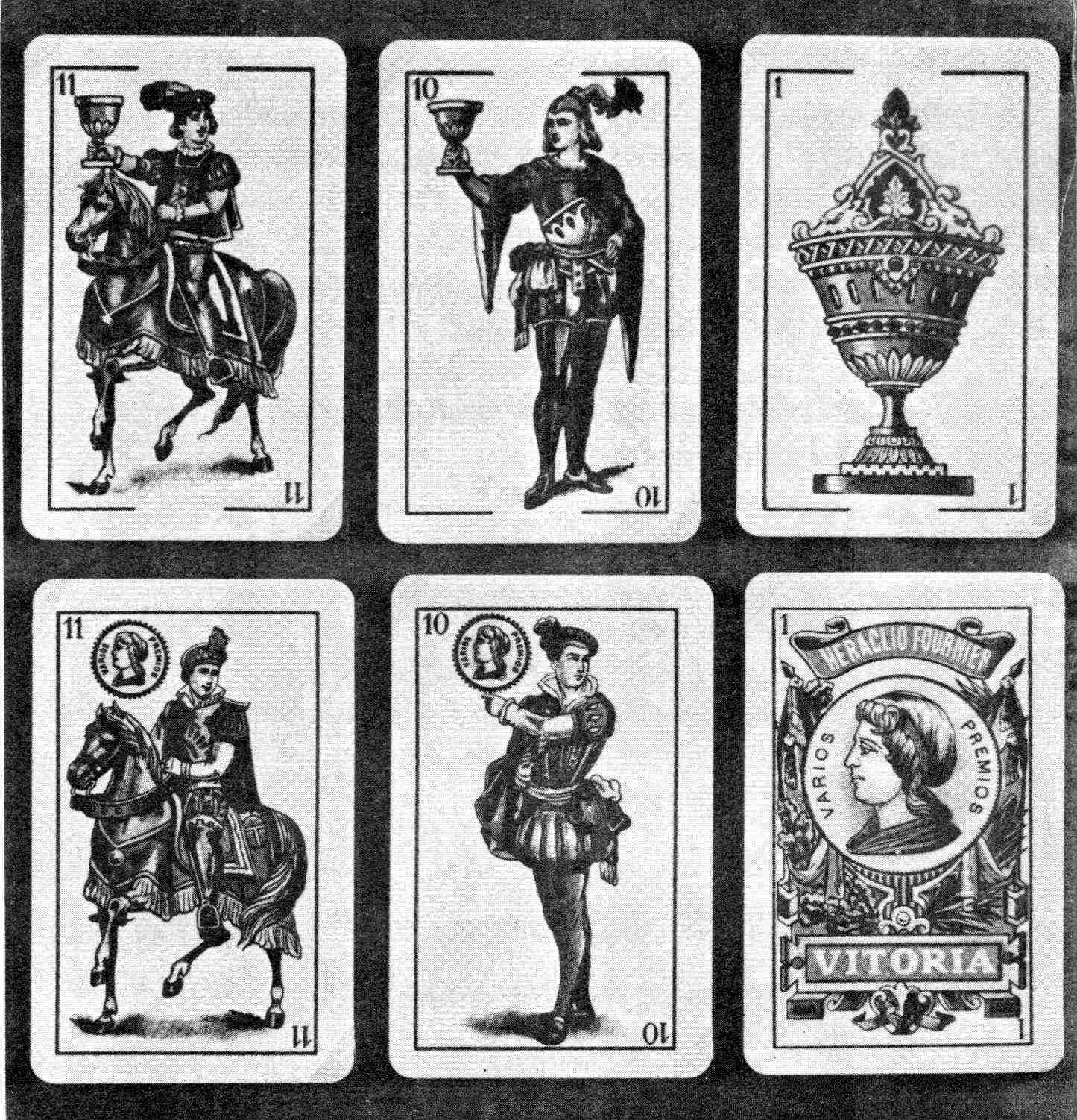 Cards made by Hijos de Heraclio Fournier, Vitoria, 1945.
| | |
| --- | --- |
| The International Playing-Card Society | May, 1979 |
---
For comments please contact the Pattern Sheet Editor: Kay Stolzenburg (pattern-sheets@i-p-c-s.org)
---
IPCS Home Page | IPCS Publications Page | Index of Pattern Sheets on the web
---
This page is maintained by John McLeod (webmaster@i-p-c-s.org) and Kay Stolzenburg (pattern-sheets@i-p-c-s.org).
Last updated 13th September 2010