---
IPCS Home Page | IPCS Publications Page | Index of Pattern Sheets on the web
---
PATTERN SHEET 25
| | |
| --- | --- |
| Suit System: | S |
| Recommended Name:   | the García pattern. |
This pattern was originally classified as S-4.
History
Raimundo García was a Madrid cardmaker or factor whose name is linked with a modest design which kept its identity throughout a substantial part of the 19th century. He adopted a policy of farming out production work to other workshops, hence cards of similar design were made by several manufacturers. These cards bore García's name and sometimes also that of the manufacturer working on his behalf. Latterly, firms having no apparent connection with García also produced cards of this design.
Composition
40 or 48 cards of usual Spanish composition (see S-1.1).
Distinctive features
Kings have their ankles and feet showing. The king of cups has no sceptre but holds his suitmark. The horse of the cavalier of coins faces right; that of the cavalier of batons has its head turned to face backwards. Two or more horses are not rearing but have only one hoof raised. The jack of batons sometimes wears trousers instead of knee-breeches. The jacks of cups and coins wear waist-sash with hanging or flowing ends. Hemispherical cups are something like those in the Catalan design. Ace of coins: central wreath enclosing shield; simple ribbon above and below.
Some known makers
Raimundo García, Madrid, 1824-1855.
Sra. Pinillos de Vallejo, Torrecilla (Logroño) (for García), c.1840.
Juan Humanes, Madrid (for García), 1865.
Juan Humanes, Madrid (successors to García), 1876-1886.
Vda. y Hijos de Vicente Gombau, Madrid, c.1880.
Cipriano Serrano, Pamplona, c.1880.
García Pattern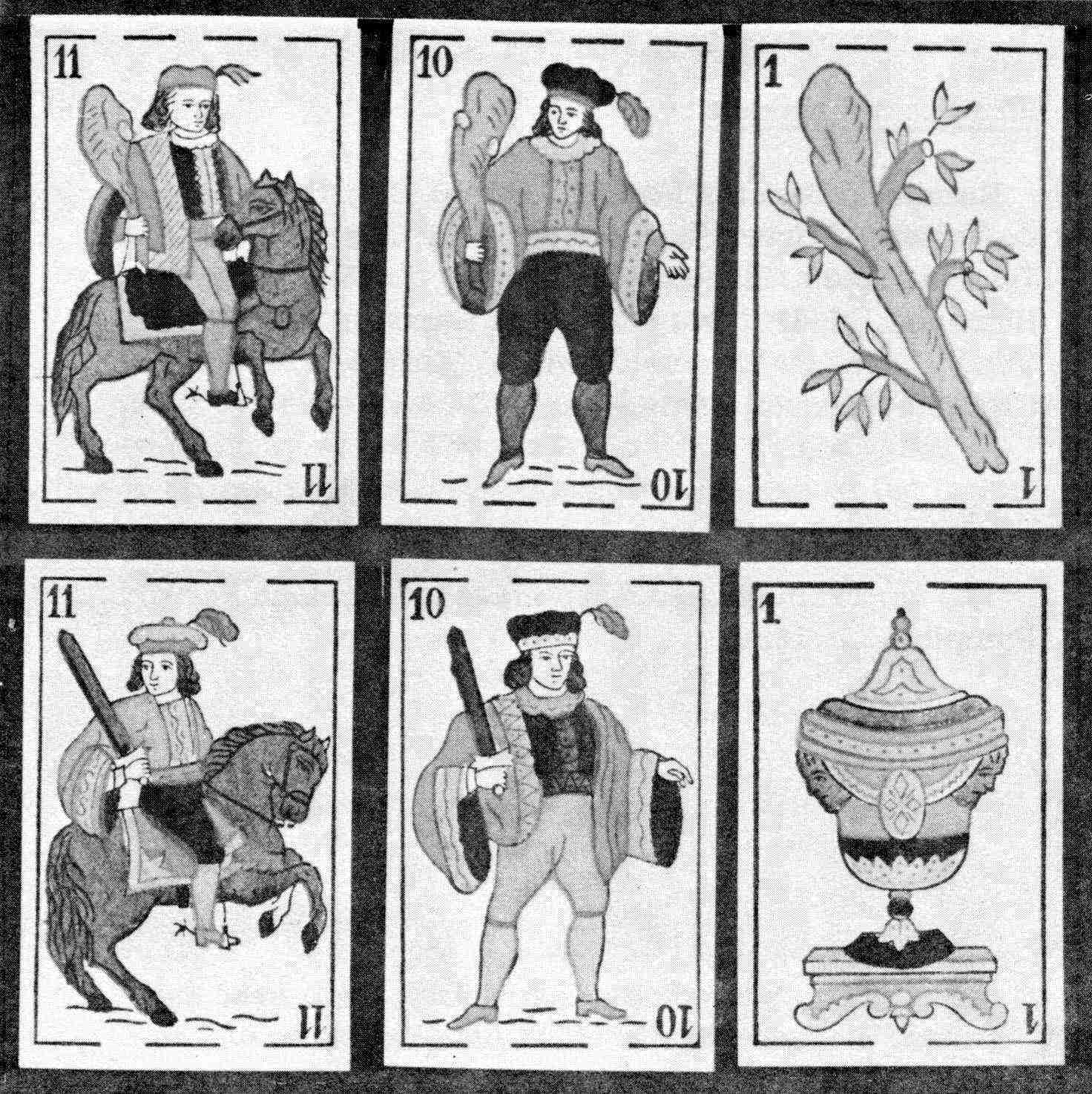 Cards made by Cipriano Serrano, Pamplona, c.1880.
| | |
| --- | --- |
| The International Playing-Card Society | May, 1979 |
---
For comments please contact the Pattern Sheet Editor: Kay Stolzenburg (pattern-sheets@i-p-c-s.org)
---
IPCS Home Page | IPCS Publications Page | Index of Pattern Sheets on the web
---
This page is maintained by John McLeod (webmaster@i-p-c-s.org) and Kay Stolzenburg (pattern-sheets@i-p-c-s.org).
Last updated 9th September 2010