---
IPCS Home Page | IPCS Publications Page | Index of Pattern Sheets on the web
---
PATTERN SHEET 15
| | |
| --- | --- |
| Suit System: | FT |
| Recommended Name:   | the Austrian Tarock Type B. |
This pattern was originally classified as FT-2.2.
Usually known as "Austrian Tarock" or "Industrie und Glück Tarock", as are FT-2.l and FT-2.3. It is recommended that this pattern should be called "Austrian Tarock Type B".
History
This pattern apparently became established at round about the same time as Type A (FT-2.l), that is to say circa 1865. It includes among the trumps a number of the designs found in Type A but, curiously, none of those which derived from the earlier Steiger pack which depicted regional costumes. The latter theme would seem to have been replaced by an odd mixture of rural and exotic scenes. This concept was also followed in Type C (FT-2.3).
Type B had much the same area of manufacture (and, presumably, use) as Type A and probably took its place when that pattern disappeared. It is still in production today (1978) in both Austria and Hungary. As with Type A, packs made in Hungary bore (and bear) the inscription "Szerencse Fel!" on trump II in place of the more usual "Industrie und Glück". A pack made by Aug. Denk in c.1930 included as replacement for the conventional legend "Dem Vaterland die Treue".
Composition
Usually 54 cards. 4 suits of 8 cards: king, queen, cavalier, jack; red suits ace-4, black suits 7-10, plus 21 trump cards and the Fool or Skys. Also known in 42-card form in which the composition is as before but the red 2-4s and black 7-9s have been suppressed.
Some Makers
Ferd. Pittner, Graz, c.1865.
Carl Titze & Schinkay, Vienna, c.1865 and 1880.
Josef Glanz, Vienna, c.1885.
Joh. Nejedly, Vienna, c.1885.
Ferd. Piatnik & Söhne, Vienna, c.1900 on (also, in c.1910 with the style "Vienna/Budapest").
Aug. Denk, Vienna, c.1930.
Franz Adametz, Vienna, c.1948.
Piatnik Nándor és Fiai R.T., Budapest, c.1930.
Játékkártyagyár és Nyomda, Budapest, c.1950 on.
Austrian Tarock Type B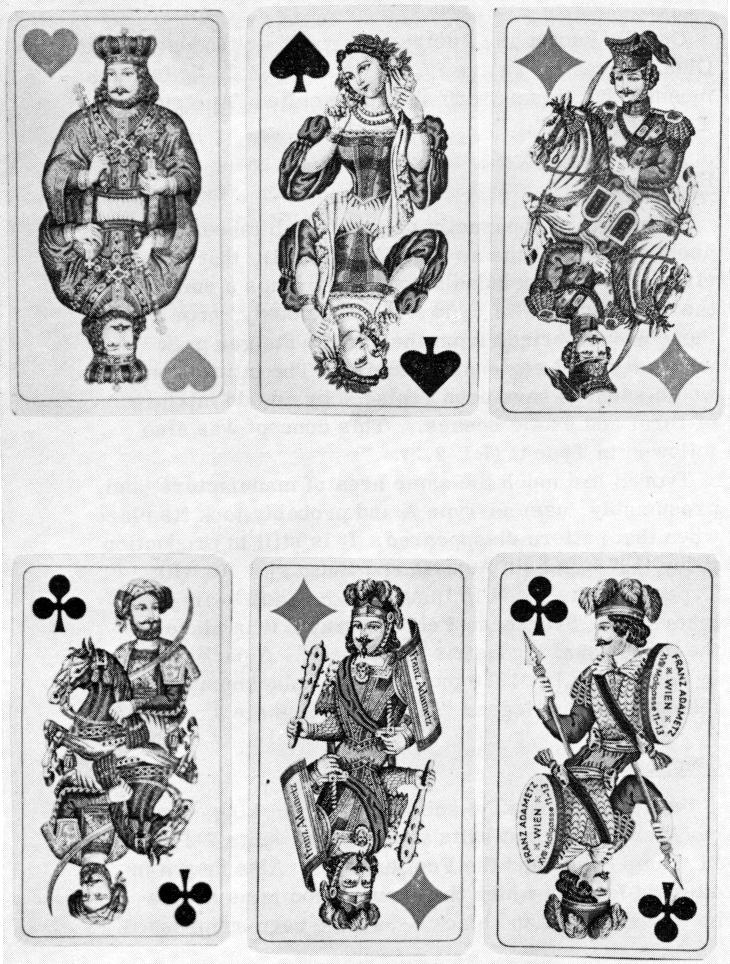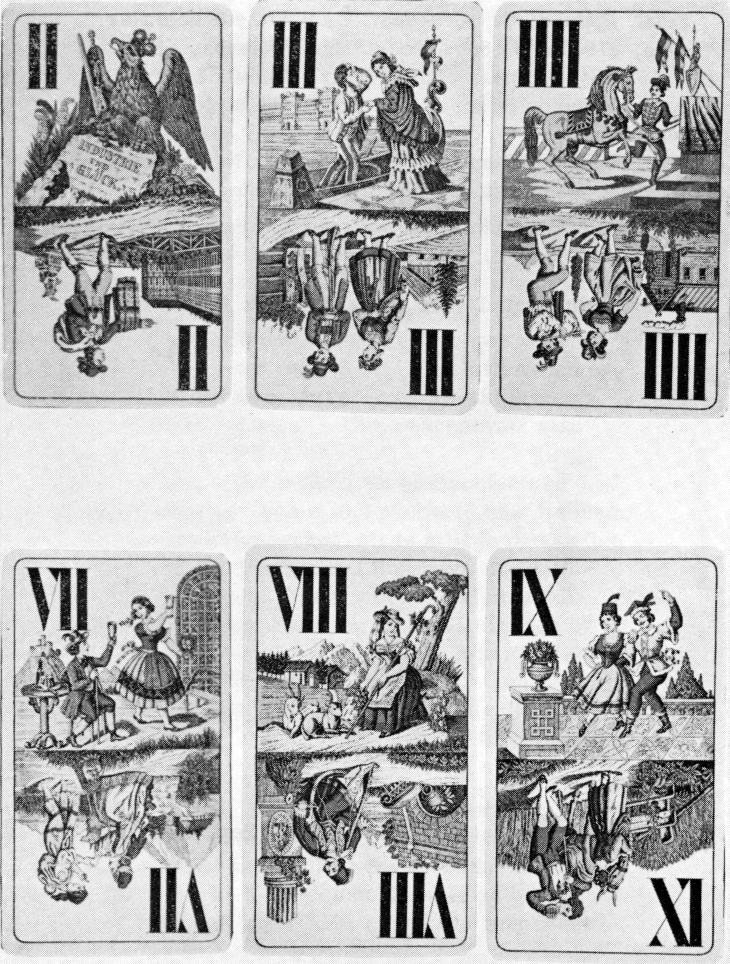 Cards from a pack by Franz Adametz of Vienna.
| | |
| --- | --- |
| The International Playing-Card Society | September, 1978 |
---
For comments please contact the Pattern Sheet Editor: Kay Stolzenburg (pattern-sheets@i-p-c-s.org)
---
IPCS Home Page | IPCS Publications Page | Index of Pattern Sheets on the web
---
This page is maintained by John McLeod (webmaster@i-p-c-s.org) and Kay Stolzenburg (pattern-sheets@i-p-c-s.org).
Last updated 9th September 2010