---
IPCS Home Page | IPCS Publications Page | Index of Pattern Sheets on the web
---
PATTERN SHEET 13
| | |
| --- | --- |
| Suit System: | IPT |
| Recommended Name:   | the Tarocco Siciliano, later form. |
This pattern was originally classified as IPT-2.1.
History
A new type of design seems to have replaced IPT-2 in Sicily in the 19th century, probably about 1830, and, with minor changes, is that used to this day (1978).
Composition
Though in the two earliest surviving examples the 4 of Coins is missing, the pack almost certainly originally had 63 cards like IPT-2 (lacking the ace-3 of Coins and the ace-4 of the other three suits). The ace of Coins was added, presumably in 1862, to bear the tax stamp and maker's name, making a 64-card pack: this card was made to resemble either the ace of Coins of the regular Sicilian pattern (Modiano) or that of the regular Neapolitan pattern (Campione). The Batons have taken on a form similar to those of Spanish-suited packs, but continue to intersect on the numeral cards.
The trumps bear Arabic numerals instead of Roman ones; the name of the lowest trump has been changed from LA POVERTA to MISERIA, which is inscribed on the card, and the remaining trumps are numbered from l to 20. Constancy (4) has lost the inscription on her banner, and the 20 (Jupiter) is no longer inscribed GIOVE. Jupiter is seated on a crag instead of hovering over a city on his eagle; the eagle sits beside him, but the accompanying Ganymede has disappeared. The Hanged Man (11) is hanged from a tree instead of a gallows. The queens and 10s now bear indices. In the earliest examples, a moustached king replaces the Empress on trump 2, but this change was later reversed. The pack has only a single-figure form.
Makers
A maker using the trade-name LA FORTUNA, 1st half of the 19th century, probably Palermo.
Guglielmo Murari, Bari, 1890-1944.
Concetta Campione, Catania, c.1950-65.
Modiano, Trieste, c.1965-present (1978).
Tarocco Siciliano, later form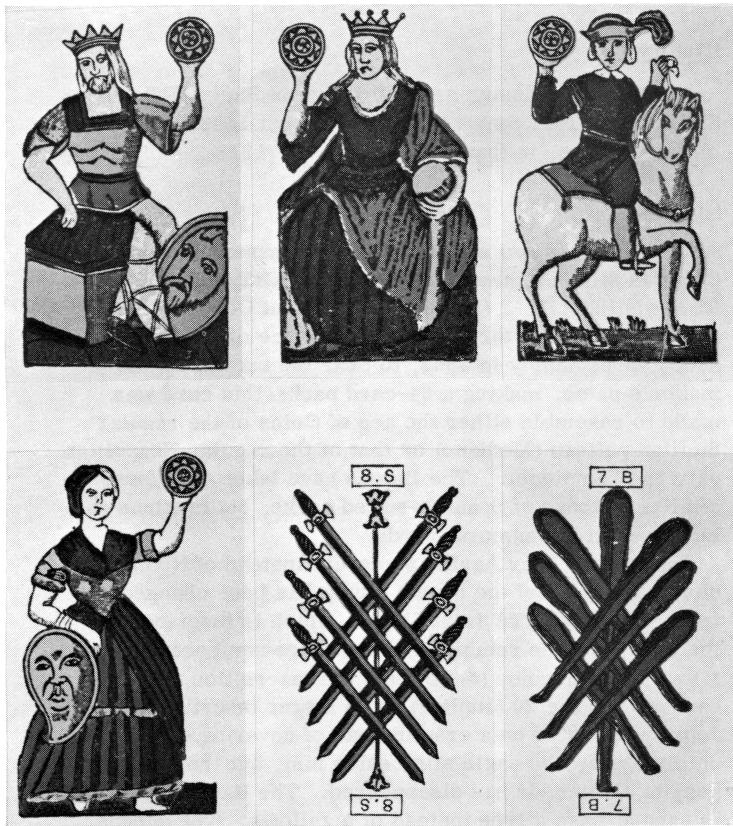 Cards from a pack by Concetta Campione of Catania.
| | |
| --- | --- |
| The International Playing-Card Society | August, 1978 |
---
For comments please contact the Pattern Sheet Editor: Kay Stolzenburg (pattern-sheets@i-p-c-s.org)
---
IPCS Home Page | IPCS Publications Page | Index of Pattern Sheets on the web
---
This page is maintained by John McLeod (webmaster@i-p-c-s.org) and Kay Stolzenburg (pattern-sheets@i-p-c-s.org).
Last updated 9th September 2010