---
IPCS Home Page | IPCS Publications Page | Index of Pattern Sheets on the web
---
PATTERN SHEET 109
| | |
| --- | --- |
| Suit System: | F |
| Recommended name:   | Vienna pattern, Type E |
History
From c. 1784 the manufacturing of playing cards developed to a higher extent in the Empire of Austria. Aloys and Johann Norbert Hofmann started to build major factories in Vienna. From the latter originates a version of the portrait d'Allemagne (IPCS # 62) with format filling figures where the crowns of the kings are truncated by the edge of the cards. The next generation of makers of playing cards in Vienna took over this kind of typical portrayal which became thereby the Vienna pattern Type A (IPCS # 107). From the late 1850s on steel engraving became more and more the method of making playing cards in Austria. The Vienna pattern Type A got its final profile by the engravers Josef Sürch and Josef Neumayer. In 1857 the well-known Viennese engraver Johann Wenzel Zinke created a version of that pattern which was somewhat more naturalistic compared to the antiquated standard version. Josef Sürch followed him on that way. From him at least three different versions from 1860, 1862 and 1864 are known. Therefore it seemed to be eligible to outline this creation as the new Type E of the Vienna pattern. In 1913 a revised version of the pattern influenced by the new art trend Jugenstil was generated (see pictures). In total the Vienna pattern Type E was on the market more than 100 years.
Characteristic features
The pattern is known only double headed without a recognizable dividing line. All figures have long curled brown hair. Jack and Queen of Clubs as well as Queen of Diamonds are shown in profile looking left. All other figures are full faced looking left or right. All Jacks wear a cap, Jacks of Spades and Diamonds with a flap. Jack of Clubs holds sometimes an arrow (like at Type D (IPCS # 108)), sometimes a baton (like at Type A (IPCS # 107)), Jacks of Spades and Hearts hold a lance, the latter one with a pennant with the name of the town of manufacture. Jack of Diamond holds a halberd. Queens of Spades and Hearts wear crowns with flat front. Queen of Clubs holds a leave or fan, Queens of Spades, Hearts and Diamonds carry flowers. The crowns of the Kings are in part truncated by the edge of the cards. The King of Hearts carries a scroll while the other ones hold a sceptre. Usually the maker's name is printed on a sash held by the King of Spades. At the Dal Negro Version of the pattern Queens and Kings of Hearts and Diamonds have changed their places (see pictures).
Composition
52 cards + x J, Ace, K, Q, J, 10 to 2 (Whist, Rummy, Bridge, Canasta); 32 cards, Ace, K, Q, J, 10 to 7 (Piquet). Without and with indices.
Some makers
Ferdinand Piatnik (& Söhne), Vienna; Alexander Eurich, Linz; Ferdinand Proksch, Proßwitz; Teodomiro Dal Negro, Treviso.
Reference
Reisinger, Klaus: Von Lyon nach Wien, Die Entstehung des Wiener Bildes, Wien 2000.
Vienna pattern, Type E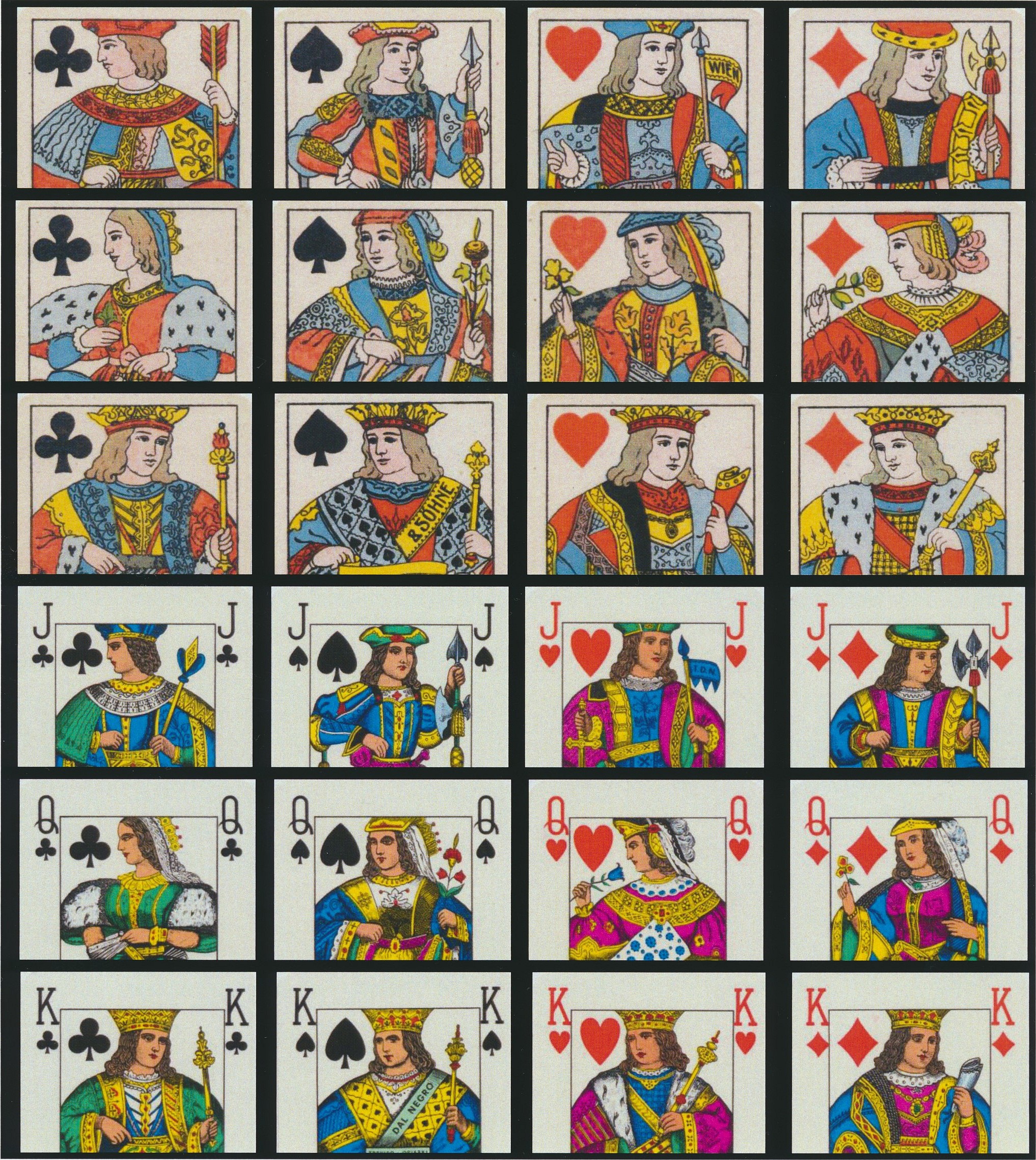 Top three rows: Ferd. Piantnik & Söhne, Wien, ca. 1915.

Bottom three rows: Teodomiro Dal Negro, Treviso, 1968

(compare Queens and Kings of Hearts and Diamonds in both versions).
| | |
| --- | --- |
| The International Playing-Card Society | 10/2015 KST |
---
For comments please contact the Pattern Sheet Editor: Kay Stolzenburg (pattern-sheets@i-p-c-s.org)
---
IPCS Home Page | IPCS Publications Page | Index of Pattern Sheets on the web
---
This page is maintained by John McLeod (webmaster@i-p-c-s.org) and Kay Stolzenburg (pattern-sheets@i-p-c-s.org).
Last updated 15 July 2016