Paris and Rouen patterns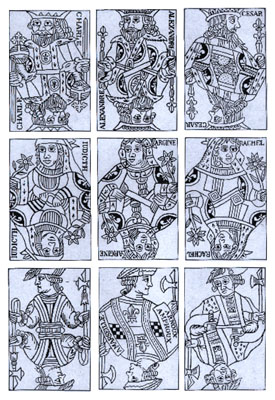 The Parisian pattern, also of fifteenth-century origin, survived and, with modifications, became official for the whole of France. Each figure card bears a fairly consistent name. Emblems, gestures and clothes can be compared with the relevant Rouennais pattern in order to discover the identities of its unnamed courtiers.
In the following chart, the archaic French spellings have been rendered in modern English.
THE PARISIAN PATTERN
Hearts
Spades
Diamonds
Clubs
K
CHARLES
DAVID
CAESAR
ALEXANDER
Q
JUDITH
PALLAS
RACHEL
ARGINE
J
LA HIRE
OGIER
HECTOR
JUDAH MACCABEE
(or JUDAS MACCABEUS)
THE ROUENNAIS PATTERN
(ANCESTRAL TO THE ANGLO-AMERICAN TYPE)
Hearts
Spades
Diamonds
Clubs
K
ALEXANDER
DAVID
CAESAR
CHARLES
Q
RACHEL
PALLAS
ARGINE
JUDITH
J
LA HIRE
HECTOR
OGIER
JUDAH MACCABEE
Paris and Rouen pattern figures ->